YES! You Can Beat Large Companies at SEO
Yes, big brands have more resources than small local businesses to devote to online marketing.
They generally have larger budgets, more staff, more professional marketing expertise and more powerful websites.
However that does NOT necessarily mean they use those resources well and it certainly doesn't mean that a small outfit with the right focus and the willingness to put in the work needed can't compete with them – and win!
More big brands than most of us can imagine are institutionally crippled by their large size, compartmentalized organization, byzantine internal politics and innate inertia.
Departments do not always work well together and can even have conflicting goals and differing methods of measuring success. So, it's not unusual for the staff being charged with the Internet side of marketing to lack the authority and resources they need to meet their goals.
It can easily take several months for the simplest changes to be made on the website of a national company and updates requiring developer time sometimes need to be scheduled a year in advance! Small business owners, on the other hand, can be much more nimble, making decisions quickly and getting right on task with important changes.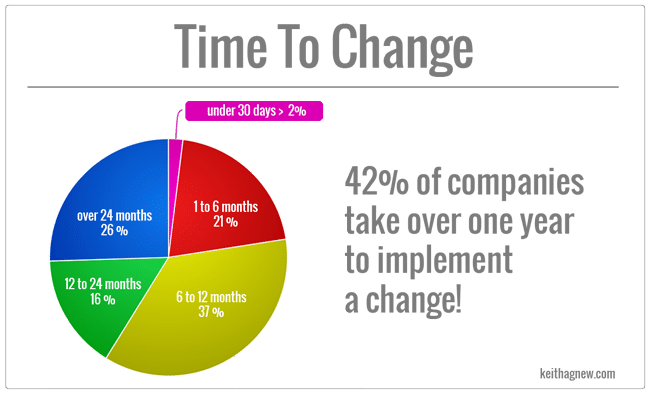 Companies with many locations have to spread their efforts over all of those markets and they have different competitors and challenges in every area.
Big brands must concentrate on coming up with a scalable strategy and then executing it using scalable tactics. In too many cases, the idea of scalability is simply a nice way to refer to cheap and easy. However, Google's ranking algorithms have dramatically moved away from rewarding these types of tactics in the past few years, so they are not only becoming less effective, they can sometimes harm search rankings.
No one at corporate headquarters can possibly know what's happening at each of the brand's dozens, hundreds or thousands of locations. Some brands own all of their locations and the local operators are their employees. Some have franchise agreements with local owners and others have a messy hybrid model that includes relationships of both types.
A local business with just a single store, shop or office needs to be concerned with just one set of competing enterprises and becoming prominent in only one neighborhood, town or city.
Those with a just a few locations still have much less to be concerned about than a nationwide company. A small business owner lives and breathes their business and knows it inside out. They're acutely aware of the conditions in their market area and know the people around them, which can give them a clear advantage over a company store with its marketing being managed from 1000 miles away.
Now that you realize that large companies have shortcomings, your job is to find the most vulnerable weaknesses in those that compete against you and to exploit them as much as possible. Here are some possible opportunities you may uncover.
Local Landing Pages
As a small, local business, you are not competing per se with an entire brand, just with the location(s) close to you. And in most cases, you are not competing with the brand's homepage, but with a location landing page – or page on the brand site about a specific location.
All of the pages on your website are local landing pages. They're all about your business and industry in your location – at least it is if you put in the effort to place unique and truly useful content on your pages. Multi location companies need a landing page for every one of their locations and it's not at all uncommon for these to be neither very unique nor very useful. It can harm all of a brand's locations if Google perceives the content on the landing pages to be too duplicative.
The store directory sections of the websites of large brands provide them with an excellent opportunity to push page authority around in a way that benefits the rankings of their physical locations. Quite a few large companies do not use this situation to their advantage, so it is rather typical to see the location landing pages for most of their stores with very little potential ranking power. These can be rather weak, as in the instance below.
So, look at the brand page(s) that may be outranking you and make the information on your website more useful than what they are publishing. You also need to build high quality internal and external links to the important pages on your site that need to be ranking high in the search results. It shouldn't take much to outrank a landing page with a Moz Page Authority of 1, like the one above, for example.
Reviews
Despite the efforts of the local operators, consumers identify all locations of a brand with the parent company and sometimes the policies of the parent company are what reviewers are complaining about. Sometimes a review gets left on a listing other than that of the location that earned it.
With just one location, you control everything and are responsible for all of your reviews. If you provide great customer service, genuinely care about the experiences consumers have with you, regularly ask for feedback, respond appropriately to negative comments and continually work to improve the shortfalls your patrons tend to complain about, then you'll beat out most national or regional enterprises hands down.
Instead of trying to act like a big brand and doing what they do, read what customers complain about around your large competitors and address their faults as your strengths on your website and in your advertising.
Prospects will appreciate knowing what's different about your business and why they should patronize a true local company rather than a chain location.
Content
Many brands fail miserably when trying to create unique content for 1000+ local landing pages for shops that all do the same things.
There just isn't any way for the same writer(s) to write about the same products and services in 1000 different ways when they have little or no first-hand knowledge of a geographic area, a specific store or its staff.
You, on the other hand, are intimately familiar with the problems prospects in your area usually face when they're looking for a business like yours and you also know the best solutions to offer to them.
You are the expert, so write your web content as if you are talking to a prospective customer about how to best help them solve their problem(s). This will resonate more than content written by a distant marketer charged with cranking out a certain number of pages per day.
Links and Citations
Big brands tend to use software (think Yext) or work out deals to get the same citations, links or linktations (a citation that includes a link) for all of their locations.
Rarely do they include anything that is location-specific, which is exactly what's needed to build up location prominence or PlaceRank.
The best big brands can do is to try to get their local operators to accomplish these things. I've found that generally only 5% -15% of them will make the effort to do anything for themselves and that ALL of them need training and direction before tackling link building. You have an enormous advantage in this aspect of Internet marketing as long as you're willing to put in the work to capitalize on it.
That work includes local community involvement such as joining local groups, in-person networking, sponsoring clubs and events, volunteering services, donating products, cultivating referral relationships and making certain the local media is made aware of all of your efforts to build up good community karma.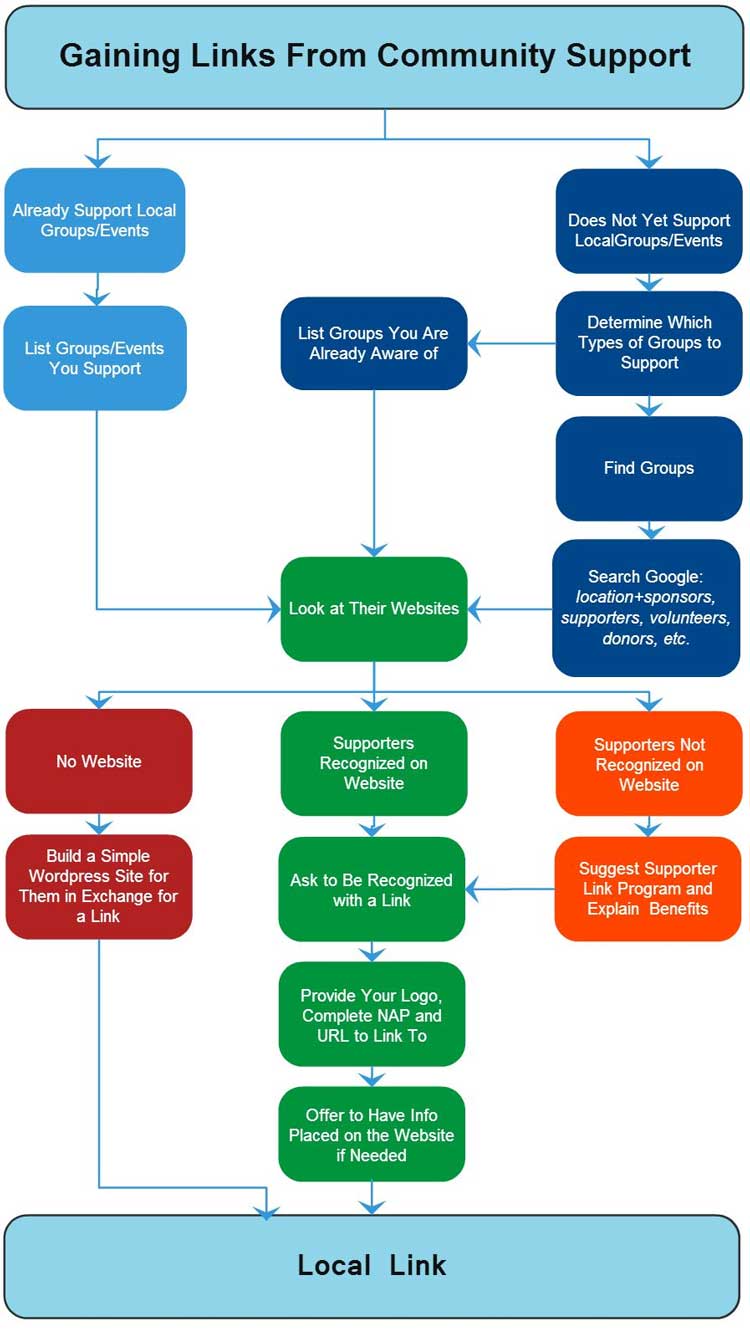 NAP+URL Consistency
It's quite difficult for big brands to maintain an accurate database of all of their locations at any given time. Locations and operators can change regularly, necessitating on-going submissions, purges and updates.
No one at a large organization can look at their list of location data and be able to tell if it's accurate or not, so every data point must be checked and cross-checked.
You can recognize inaccuracies in your NAP+URL (name, address, phone, domain) immediately and quickly work to correct them before problems can spread. Once you've ensured your data is consistent in the important places, it's fairly easy to maintain it that way.
Bonus Tips
Google Violations
Brands sometimes violate the guidelines for representing their business locations via Google My Business (GMB). While it rarely causes them any long term damage, you can distract them and slow them down by reporting these problems to Google support.
So check the GMB listings of those businesses that outrank you and report any spam that you find.
Set In Stone?
As much as many of us wish it wasn't true, keyword-rich domain names and business names have a remarkably positive influence in the local algorithms.
Big companies will rarely change from their branded URL and name, but a small to medium business unsuccessfully competing against them might benefit from doing so.
Fake or Real Locations
Right now it's also quite easy to create, verify and maintain new "virtual" locations at Google My Business.
We've had periods in the past when Google really worked at discovering and shutting down fake locations, but we're not in one of those cycles right now.
While faking locations can be risky business for those who are prone to taking short cuts, the consequences are not disastrous if you put in the effort to do it in a way that a business would logically expand its footprint in the physical world.
This Is a Marathon Not a Sprint – Don't Give Up!
So don't just throw up your hands and give up when a big brand beats you out in the search results. Instead, look for vulnerabilities in their company and their online presence and take advantage of them.
Why?… because my money is on the little guy every time!